Happy Tuesday! I hope you are keeping safe and well in these days of social isolation and quarantines. It sure is a different world than is was just a couple of months ago! I am doing something I never imagined I would do...teach instrumental music (band class) online! It has been a HUGE adjustment, with tons of time spent recording instructional videos for my kiddos, but so far it has been going fairly well. I am fortunate that I have lots of experience with online tools from my Stampin' Up! business...it is making my learning curve much smoother than some of my colleagues'. As a result of the change in my work status, I am going to be posting here, weekly, on Tuesdays instead of Mondays for as long as I am working from home. My Mondays are all about posting assignments and answering questions from my students at school these days!
Last week, Stampin' Up! announced the list of retiring products from both the Jan - June Mini and 2019/20 Annual Catalogues. There are SO many favourites on there that I will miss terribly, so I am going to focus for the next several weeks on some of the ones I will miss the most. Keep in mind that any products I featured are available while supplies last and that, at the time I write my blog post, are still available for ordering. To check out the full list of retiring products, click the image below:
One of the big surprises on this list is the Honey Bee bundle from the Jan-June Mini Catalogue. This item was HUGELY popular and was on back order for quite some time. However, it is now back in stock and is available to order while supplies last...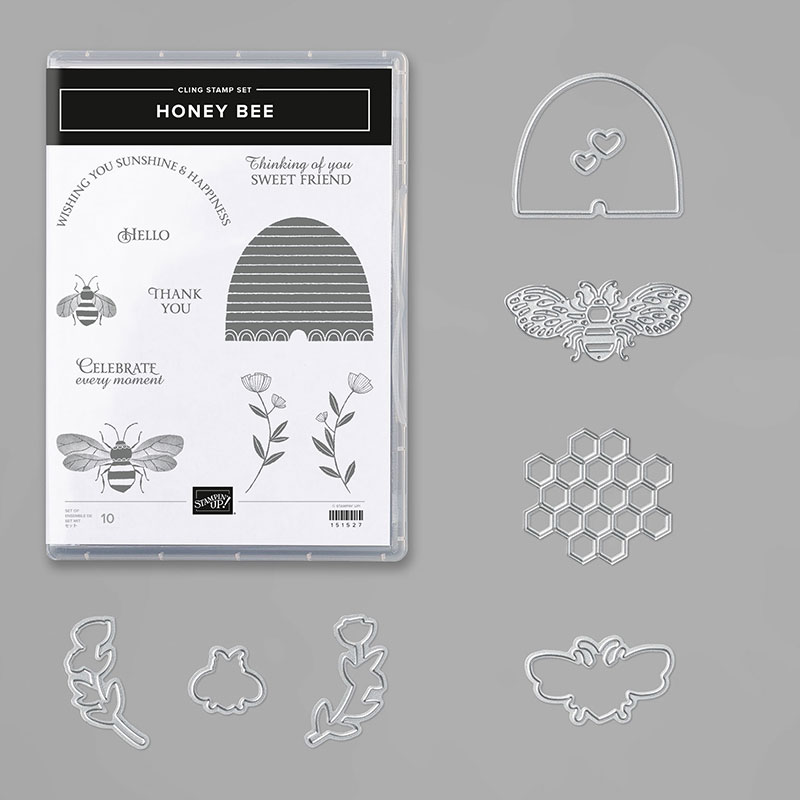 Check out this cool fun-fold I made using this bundle...
This fold is called a tricorn (I suppose because it looks like a tricorn hat) and is actually much easier than it looks. The best part is that it folds flat for mailing in a standard envelope!
Now, the details of how to create this fold are too complicated to explain here, but I will be demonstrating it in today's Live @ Five video over on my Facebook business page today at 5:00 ET. If you can't make the live, I will post the video here once I am done. It will be the first of three projects I'm demonstrating, so you'll want to watch right to the end to catch the other two!
I can, however, tell you what colours and products I used. The base of the card is Coastal Cabana card stock. The striped Daffodil Delight Designer Paper is from the Best Dressed pack. I stamped the bee hive in Daffodil Delight ink and die-cut it using the Detailed Bee dies. The sentiment, bee and flowers are stamped in Basic Gray ink and then coloured using Dark Daffodil Delight and Light Bermuda Bay Stampin' Blends.
The honey comb is cut from Champagne foil using the Detailed Bee dies. The layered circles are cut from Whisper White and Coastal Cabana card stock, using the Stitched Shapes and Layering Circles dies respectively.
There is even space on the back to write a message!
I really love this fold and have to admit it is a little bit addictive! I will post more ideas using it on my Instagram feed and Facebook Business page this week. If you aren't already following me on social media, you're missing out! I post project ideas daily, so be sure to like and follow me so you don't miss a single thing.
Thanks so much for stopping by today. I hope you are staying safe and staying home...be well!
Product List