Happy Monday, and happy June! I hope you had a good weekend and that the month is off to a wonderful start. I had a busy weekend with my catalogue launch and Bingo event on Friday evening and then cleaning and reorganizing my studio in preparation for all the new catalogue goodness that will arrive this week. Just one more sleep until the new 2019/20 Annual Catalogue goes live and I can not wait to get my hands all those yummy new products! I'm celebrating launch day with a special blog post and Facebook Live event tomorrow...be sure to check it out!
This weekend I also started prepping for my crafting booth at our local Relay for Life event coming up on Friday evening. I am super-excited about the projects I came up with because they are simple enough for beginners, but will allow relay participants to customize their creations for anyone battling cancer whom they wish to encourage with a handmade card. Check out the designs I came up with using the Artfully Aware stamp set...
I kept the same basic design, for ease of preparation...I am going to have a TON of kits to prep! Since Lavender is the support ribbon colour for all cancers, I opted to make my samples using the Support Ribbon dies in Highland Heather. I also did one sample for childhood cancer in gold. Here is a closer look at each design...
It doesn't show especially well in the photos, but the focal image on each card is cut from the background panel, so as to take advantage of the stitched border on the negative. I also popped up each label with dimensionals to add interest to these simple designs. Now, I have to say it nearly KILLED me not to add ribbon, embossing and embellishments to these cards, but knowing that I will have to prep literally hundreds of them, made it easier to keep it simple.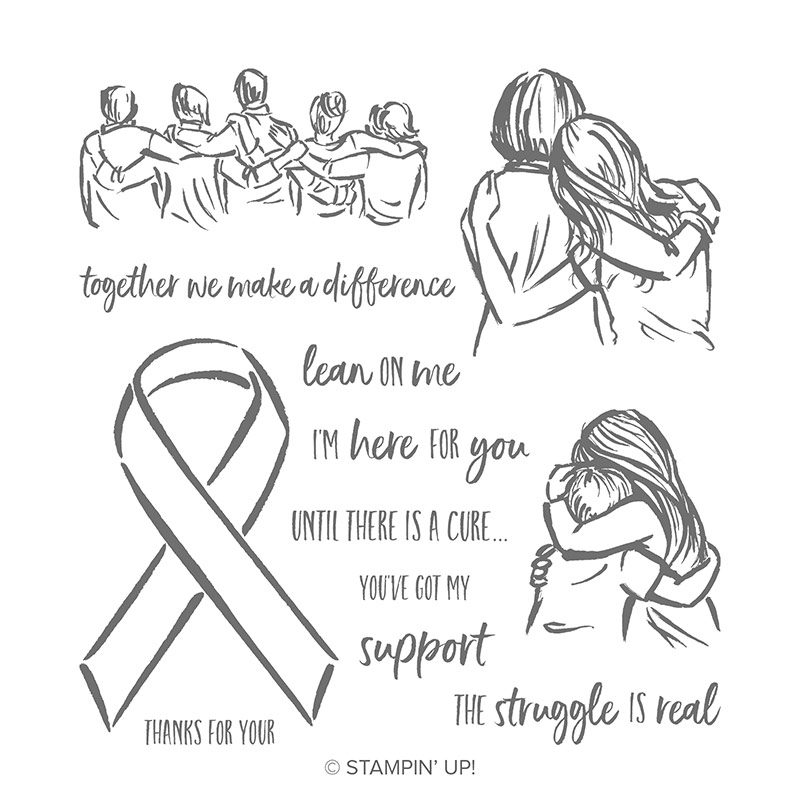 I absolutely love the simple line-art images in this set. They look wonderful coloured, but also work beautifully in simple black and white. The best part is, that each participant can change the colour of the support ribbon to suit the person for whom they are making the card. I will have lots of die-cut ribbons on-hand to make things run smoothly. My Big Shot is going to get a work-out this week!
Now, did you notice the new catalogue sneak peek on these cards? I used the new Stitched Nested Label dies from the Bird Ballad suite for all of my labels. I love the shape and that they create two lines of stitching...one on the label itself and one on the negative. Such an awesome feature! It completely eliminated the need for a mat on all of these designs!
Speaking of the new catalogue, I will be back tomorrow with a post featuring the yummy new In-Colors...be sure to stop by. Till then, have a great day and a super week!
Product List